Samsung Electronics' IoT (Internet of Things) platform called 'ARTIK' has absorbed a technology that allows ARTIK to recognize faces based on machine learning. It can apply IoT and machine learning technology to various devices such as home security solutions or solutions for detecting unusual signs. Samsung Electronics is planning to expand rage of application of ARTIK through enhancement of ARTIK in order to expand IoT ecosystem under leadership of Samsung Electronics.
According to industries on the 17th, Samsung Electronics recently applied a technology for recognizing faces based on machine learning to its IoT platform called 'ARTIK'.
Samsung Electronics developed and tested corresponding technologies through ARTIK 710 series. It allowed ARTIK's machine learning engine to recognize faces by utilizing Microsoft's 'Microsoft Celeb 1M', which has images of 1 million famous people stored. Samsung Electronics explained that accuracy of ARTIK on recognizing faces reached 91% after learning.
"While intensive machine learning requires strong computing support, machine learning based on inference is possible through embedded solutions such as ARTIK platform." said a representative for this industry. "By linking machine learning and computing technology for face recognition, they can be applied to various fields such as home security devices or home appliances, and solutions for detecting unusual signs."
In order to have developers or other businesses easily use ARTIK platform, Samsung Electronics officially distributed ARTIK platform after putting methods and examples for implementing technologies into application note (guideline). As a result anyone can download Samsung Electronics' source code.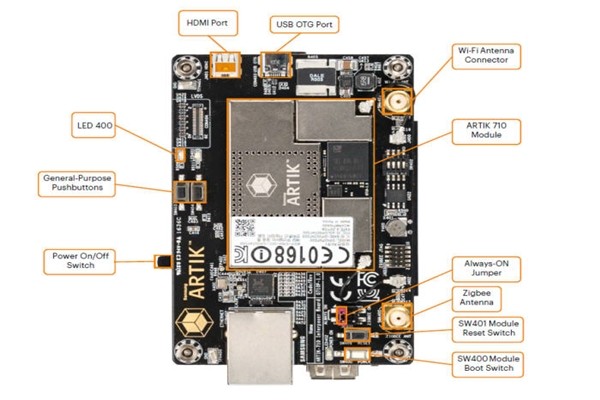 When ARTIK platform is able to implement face recognition technologies, its level of use will be even wider. Previously Samsung Electronics also added machine learning function that predicts various data and differentiate abnormal data from normal data to ARTIK Cloud. When developers develop services based on ARTIK platform, they can make rules on machine learning using API (Application Program Interface). Not only does this interface analyze data that is created from ARTIK but it also comes up with predictions based on data and differentiate abnormal data from normal data.
More advanced IoT devices can be made by using ARTIK Cloud through machine learning. For example, electric rice cooker that is applied with ARTIK changes internal pressure that is stable into basic data. If there is a sign that there is something wrong with pressure of a rice cooker, it can detect unusual data in advance and either notify a user or take action on its own. Because it is free to use Cloud service by purchasing ARTIK, machine learning services can spread very quickly.
Samsung Electronics is also going to apply its voice recognition-based AI (Artificial Intelligence) platform called 'Bixby' to ARTIK. Considering the fact that ARTIK platform is an open platform that can be used freely even outside of Samsung, Samsung Electronics can form AI and IoT ecosystems based on its machine learning and voice recognition technologies.
"Samsung Electronics is starting to spread its ARIK ecosystem by applying machine learning and voice recognition AI to ARTIK platform." said a representative for this industry. "It will be interesting to see whether or not ARTIK platform will become a core platform in various future industries such as Smart Home."
Staff Reporter Kwon, Dongjoon | djkwon@etnews.com