Samsung Electronics made an announcement that it will be releasing super-high performance 800GB Z-SSD that has 5 times faster response speed than current high-performance NVMe (Non-Volatile Memory express) SSD (Solid State Drive).
It explained that this product will be useful in analyzing cache data and log data super-fast in next-generation computing markets such as Deep Learning and Big Data for AI (Artificial Intelligence).
Z-SSD will have 1-bit SLC (Single Level Cell)-based Z-NAND that has 10 times faster reading speed than 3-bit V-NAND, fast response controller, and super-fast and super-power-saving 1.5GB LPDDR4 mobile DRAM.
It implements 16 microseconds and 750K IOPS (Input Output Operations Per Second) that are 5 times and 1.7 times faster than response speed and voluntary reading performance of 3-bit-based high-performance NVMe SSD (PM963) respectively.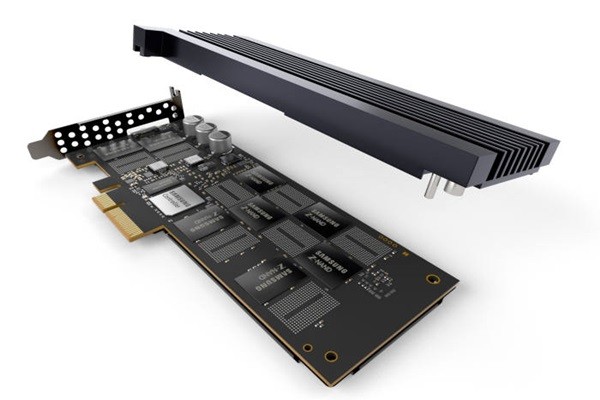 800GB Z-SSD guarantees up to 5 years of use if 800GB is used 30 times daily and it guarantees up to 42,000 TB if daily use exceeds that amount. 42,000 TB corresponds to capacity that can write and erase a 5GB full HD movie 8.4 million times. Its MTBF (Mean Time Between Failures), which is a yardstick for credibility, is 2 million hours which are twice more than what it is now.
"We will be able to provide solutions that further increase efficiency of investment to our global super computer customers by releasing 800GB Z-SSD." said Team Leader (Executive Director) Han Jin-man of Samsung Electronics' Memory Business Department's Product Planning Team.
Samsung Electronics made an announcement that it will be releasing second generation dual-port Z-SSD, which expands fusibility through two connection ports, by end of this year followed by first generation single-port Z-SSD lineups based on third generation 48-layer V-NAND.
On the other hand, Samsung Electronics is planning to announce core technologies of Z-SSD at 2018 ISSCC (International Solid-State Circuits Conference), which is going to be held in San Francisco on the 11th of February.
Staff Reporter Han, Juyeop | powerusr@etnews.com