It seems like this year's main competition in the premium TV market will happen among extra-large screen TVs. Global TV market is going into a saturated state, but the extra large screen premium TV is becoming the new growth engine, as it is attracting the consumer's attention.

Extra-large TV usually refers to premium TVs with 75-inch or larger screens. At the CES 2018, where you could see the trends of the future display technology, major TV manufacturers scrambled to show the visitors their extra-large screen TVs.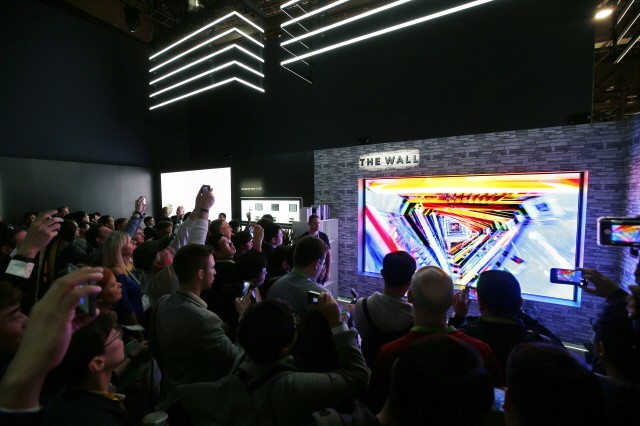 ◇ The main trend of the global TV market is 'premium extra-large screen TV'

Televisions are getting bigger by the minute. A U.S.-based market search company, IHS Markit, expects the global shipment of TVs with 75-inches-or-bigger screens will increase by 47.4%, from last year's 1.15 million units to approximately 17 million units this year. Last year, extra-large screen TV sales volume rose from 17.2 thousand units in 1Q to 29.8 thousand units in 3Q. It predicts that the total unit of sales volume will be 2.27 million in 2019 and 3.39 million in 2020. This may mean that the true winner in the premium TV market will be decided upon which company dominates the extra-large TVs with 75-inches and bigger screens.

More consumers tend to prefer large screen TVs. Large screen TV sales are increasing, as more people want to enjoy the excitement of watching sports games from a larger screen with the Pyeongchang Winter Olympics right around the corner. The actual opening day of the Winter Olympics is February 9. "The TV sales growth over the previous year only reached 1.3% from January to November, but the demands clearly went up starting from December because of the Pyeongchang Winter Olympics", said an official in the electronics retail industry. "Above all, large-screen TV sales are continuously increasing."

The size of the TV screen increased with the evolution of displays. The biggest screen for CRT TVs was only 20 inches in size but as the TVs evolved into LCD TVs and PDP TVs, the display size grew to reach 30-40 inches. PDP TVs went out of the picture in 2014 due to issues like screen burn-in, but LCD developed to be even bigger and was introduced in slimmer designs and was also applied to wall-mount TVs.

With the introduction of UHD TV in 2015, bigger TVs with 55- and 65-inch screens showed up. This year, global TV manufacturers including not only Samsung and LG but also Sony and TCL are all focusing on large screen TVs that are bigger than 65 inches.
In the 75-inch and larger TV market, Samsung is taking the lead. In the third quarter of last year, Samsung sold 158,000 units, beating Sony, which sold 79,700 units, and LG, which sold 34,900 units in this market. Samsung fell behind Sony in the first quarter, selling 57,600 units while Sony sold 61,400 units, but it soon went ahead Sony in the second quarter (Samsung selling 85,200 units versus Sony selling 52,300 units), and Samsung doubled the gap between Sony in the third quarter. Industry experts say that Samsung's strategy of addressing the demands of customers who want to enjoy high-resolution images through extra-large screen TVs by quickly increasing its large-screen TV line-ups proved to be effective. Last year, Samsung arranged an extra-large QLED TV line-up consisting 21 models with 65-, 75-, 82-, and 88-inch screens.

◇The '8K TV Era' begins this year

'8K' has become the new topic of the industry as TVs are becoming larger. 8K support is crucial for extra-large screen TVs because bigger screens need higher resolution. Extra-large 8K TVs have to be backed up with higher resolution and brightness, better color representation, and the technology for durable materials. 8K (7680×4320 / 32 million pixels) has four times greater resolution that UHD (3840×2160 / 8 million pixels).

With more pixels, the TV display can show crystal clear images as if they are color printed because of the increased density of the pixels. For 8K TV, it is particularly important for the pixels to maintain their brightness even though the size of each pixel decreases so more of them can fit into a screen. On top of that, the HDR (High Dynamic Range) technology, which is an essential feature for premium picture quality, increases the brightness as much as ten times the brightness of previous TVs, and increased brightness and contrast should not affect the lifespan of the display. The durability of the material is very important so that issues like burn-in and artifact do not occur.

Samsung is placing the Quantum Dot technology in the center of its extra-large TV sales strategy. Quantum dot is an inorganic substance, and the industry assesses it as a suitable material for achieving 8K resolution because it allows outstanding brightness and color representation. It can express so many different colors just by changing the size of the particle, and it can be applied to a variety of forms because it is highly durable. Having a long lifespan, it can express and maintain vivid colors for a long time, and with high power efficiency, it saves power and increases efficiency.

◇ Samsung is aiming for the large-screen TV market with its two-track strategy

Samsung threw out its "two-track" card, unveiling the 85-inch '8K AI QLED TV' and the 146-inch 'The Wall' at this year's CES. The 8K AI QLED TV clearly shows Samsung's strategy for aiming the large-screen TV market with a combination of the AI-enabled upscale technology, ultra-high resolution, and quantum dot material. Samsung also unveiled its modular TV, 'The Wall', this year. 'The Wall' attracted the attention of the visitors with its design that allows flexibility of size, resolution, and even the shape of the TV by using micro-LED technology.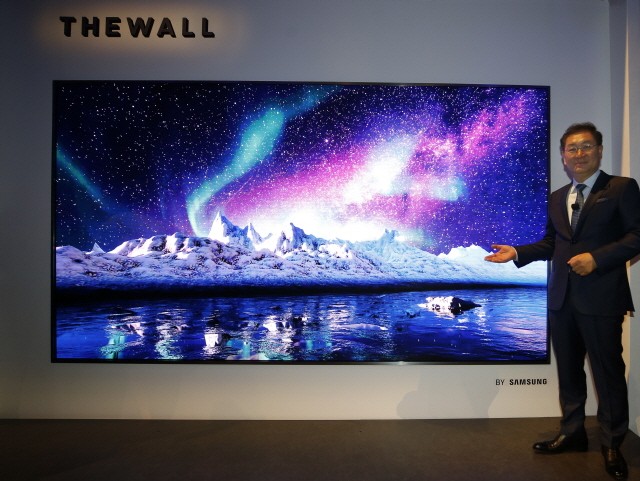 'The Wall' is a 'custom TV', which its size and shape can be adjusted to the likes of the user. Because it is a 'modular' TV that can be put together into different shapes like building blocks, users can make it small or as large as over 200 inches without restriction. 'The Wall' is the name of this TV because it can even cover an entire wall, and it was one of the highlights of this year's CES after it was introduced for the first time.

The micro-LED technology applied to 'The Wall' makes the LEDs that were only used for lightings as small as dozens of micrometer(?) for displays. This approach enables each LED chip to express RGB colors and allows the LED to become 'self-emissive'. Without the backlights and color filters, it delivers better brightness, contrast, color representation, and black level than previous displays. It also has excellent durability and efficiency including luminous efficiency and light source endurance, so it is being recognized as the standard display for the next generation.

'The Wall' achieved the distinction of receiving the most awards for a single product (a total of 41 awards), receiving prestigious awards like the CES Innovation Award and awards from influential media including USA Today, Wall Street Journal, and BGR. Reviewed.com, a review-oriented media of USA Today, rated 'The Wall', saying "We've seen all manner of crazy concept TVs at CES, but Samsung's Micro-LED is the rare off-the-wall idea that is cutting edge, completely insane, and slated to come to market. The hook? a modular design that lets you assemble your own display".

"8K UHD test broadcast is scheduled to be aired during the Pyeongchang Winter Olympics and the era of 8K ultra high definition broadcasting is beginning. With all these events happening, we plan to increase the gap between Samsung and its rivals in the global extra-large screen TV market by using our 'AI resolution', 'modular technology', and 'quantum dot material'", said a Samsung official.

jmlee@etnews.com