Chinese panel manufacturer called Tianma surpassed LG Display in market share of LTPS (Low-Temperature Polycrystalline Silicon) LCD for Smartphones in 2017 and rose to second place.
According to a market research company called IHS Markit, Tianma supplied 150 million LTPS LCD panels in 2017 that doubles the amount of LTPS LCD panels it supplied in 2016.
Its market share also rose sharply as it went from 11% in 2016 to 17% in 2017.
JDI, which is currently the first place based on market share, saw its market share drop from 36% in 2016 to 26% in 2017. LG Display, which had been the second place, fell to third place as its market share dropped from 22% to 16%.
Along with Tianma, BOE, AUO, and Foxconn have been extending their 6th generation LTPS LCD panels since 2016 and they caused concerns for oversupply as global production capacity increased by 30 to 38%. As oversupply became clearer in 2017 with China at the center, Japanese and South Korean panel manufacturers that are the leaders in this market suffered a huge blow.
Unlike Chinese panel manufacturers, amount of sales volumes of LTPS LCDs of JDI, LG Display, and Sharp are dropping every year.
According to IHS Markit, amount of their sales volumes went from more than 400 million units in 2015 to about 350 million units in 2016. It estimated that amount of their sales volumes in 2017 will be slightly over 300 million units.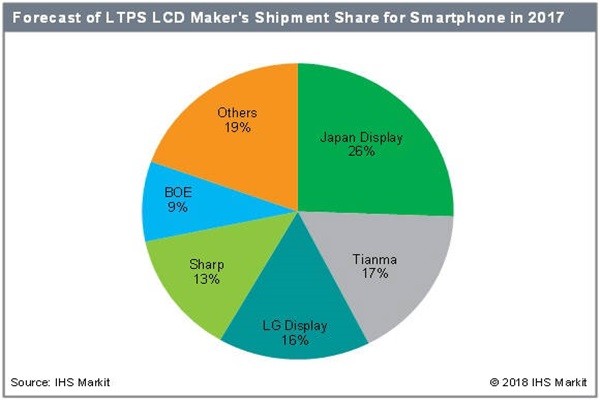 On the other hand, amount of sales volumes of Tianma and BOE rose sharply every year. Amount of their sales volumes more than doubled from 41 million units in 2015 to 90 million units in 2016. IHS Markit estimated that amount of their sales volumes in 2017 would be about 180 million units.
It is estimated that market shares of Tianma and BOE would increase as amount of supplies that they had supplied to Huawei increased greatly. Xiaomi and VIVO obtained 70 to 80% of their LCDs from Chinese manufacturers. Huawei is also using more than half of its LCDs from Chinese panel manufacturers. It has been targeting premium market by applying LTPS LCD to its Smartphones as full-screen design has become popular since last year.
IHS Markit saw that the fact that price of LTPS LCD dropped due to oversupply was beneficial for expanding this market. Although difference in prices of rigid OLED and LTPS LCD was only about 5 dollars in early 2017, it has become wider again as amount of supplies started to surpass amount of demands.
"Half of panels for Smartphone that are produced by Chinese panel manufacturers is purchased by Chinese set manufacturers." said a representative for an industry. "South Korean and Japanese panel manufacturers need to consider about their strategies for small and medium LTPS LCDs as amount of output of small and medium LTPS LCDs produced by Chinese manufacturers is doubling every year and Chinese businesses are starting to use more of small and medium LTPS LCDs produced by Chinese panel manufacturers."
"Panel manufacturers that increased amount of their outputs are facing significant amount of difficulties as price of LTPS LCD fell below production cost." said a different representative. "Changes within markets for small and medium LCDs will be inevitable this year."
Staff Reporter Bae, Okjin | withok@etnews.com