Shinryong, a South Korean battery inspection equipment manufacturer, developed 3D CT (Computed Tomography) battery inspection equipment with drastically improved speed and is planning to target relevant markets.
Shinryong announced that it finished development of 'TRV-X', which is an equipment that inspects electrodes of lithium-ion batteries.
TRV-X comes from words 'Transmission', 'View', and 'X-ray'. It inspects battery cell layers in 3D to measure how much electrodes are overhanging and finds out whether a battery is faulty or not.
Because current 3D inspection equipment takes between 15 and 20 minutes to inspect one battery, a sample needed to be inspected. On the other hand, TRV-X is applied with fast execution processing algorithm and it can inspect up to four cells at 4PPM speed concurrently in one minute.
Shinryong was able to improve speed by developing its own software technology that drastically increases image conversion speed after a CT scan. TRV-X is also applied with an algorithm that is strong against various modified shapes. Shinryong applied for a patent related to improved speed of TRV-X and is currently going through a registration screening. It co-developed a detector, which plays a role of a sensor and is a necessary part of an X-ray, with Vieworks.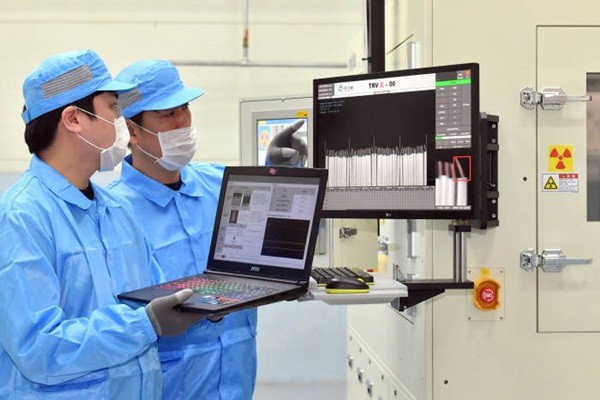 Automated inspection process has emerged as a hot topic within various industries as there has been an increase for battery demands and output. Because it is not easy to automatically inspect pouch-type batteries due to their flexible design, people inspect them with a naked eye that is seen as a bottleneck situation. Shinryong explained that TRV-X can carry out total 3D inspection and drastically reduces inspection time resulting in higher productivity and lower defective rate.
"TRV-X reduces handling time and increases image processing speed." said CEO Yoo Kwang-ryong of Shinryong. "While there are huge demands towards total 3D inspection, TRV-X can drastically reduce possibility of accidents that can occur due to faulty batteries."
Shinryong finished assembling demo equipment and is currently running tests. It is expected that sales from TRV-X will be in full swing once Shinryong certifies and delivers TRV-X to its customers.
Shinryong, which was established in 2013, entered small battery inspection market in 2014 and expanded its business towards medium and large battery inspection market by becoming the first business to develop pouch-type car battery appearance inspection equipment in 2014 and supplying it to South Korean battery manufacturers. It converted into a corporate and changed its name from UVision to Shinryong to improve management transparency and to strengthen its competitiveness.
Staff Reporter Jung, Hyunjung | iam@etnews.com