South Korean startup company commercialized wearable product equipped with flexible lithium-ion battery.
LiBEST stated that it released Apple Watch accessory called 'Artenix Band', which is equipped with a flexible battery, through a global crowd funding platform called Kickstarter.
LiBEST was established by CEO Kim Joo-sung while he was taking a doctor's course at KAIST in 2016. He had been developing flexible batteries since he was taking a master's course and he materialized a concept for an applied product after he released a cellular version of 'Apple Watch 3'. After manufacturing first prototype in early 2018, he had modified the design and launched 'Artenix Band' after deciding on the final design at the end of last month. LiBEST is looking to send out 'Artenix Band' at the end of this year after starting the production process in July.
Artenix Band is comprised of 'Standard Band' that can be normally worn as a strap for Apple Watch, 'Charging Band' that is equipped with a flexible battery that charges Apple Watch through wireless connection, and 'Connect Band' that connects Apple Watch with Charging Band and Standard Band.
LiBEST decided on $399 as the price for a set of Standard Band, Charging Band, and Connect Band and it provides an option where a customer can purchase a set for $199 if he or she pre-orders it. It is hoping to raise $25,000 in 30 days.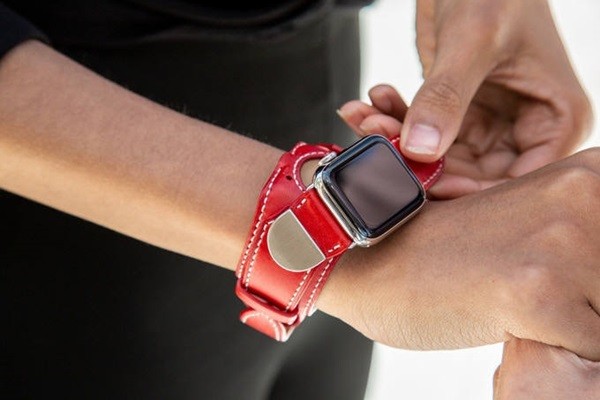 Just like most of Smart Watches, Apple Watch has to be charged daily and it has to be fixed to a charging device while it is being charged. Meanwhile, Artenix Band can charge an Apple Watch while it is worn on a wrist and without any power cable or charging base as it is equipped with a flexible battery. Capacity of this flexible battery is 500mAh at the maximum and it is able to extend life of a battery up to 16 hours.
Flexible battery that is applied to Charging Band is applied with LiBEST's own structure, design, and material. LiBEST has secured appropriate performance and stability and credibility during a test that bent Artenix Band more than 5,000 times.
Although Artenix Band is made so that it is separated from a watch, LiBEST is expecting that it is able to produce an all-in-one design that operates a Smart Watch through a flexible battery of a band. Although a battery is only located inside of a Smart Watch, LiBEST will be able to extend hours of use and add many functions once it builds a flexible battery inside of a wrist band.
"Our goal is 'Super Smart Watch' that will be a new form factor after 'foldable Smartphone." said CEO Kim Joo-sung of LiBEST. "Global customers are showing interests in Artenix Band as they are looking to apply it to Smart Glasses, Smart Neckbands, and Smart Headbands in addition to Smart Watches."
Staff Reporter Jung, Hyunjung | iam@etnews.com