A need to develop core technologies and to diversify supply network of materials, parts, and equipment that had been heavily dependent on Japanese companies has become more important than ever as Japanese Government started regulating exportation of semiconductor and display materials. Although South Korea's small and medium companies and mid-sized companies have attempted to localize such materials, parts, and equipment consistently, many of them were not able to succeed in commercializing these materials, parts, and equipment as they fell behind by foreign competitors in technical skill and competitive price. However, buyers have become very active in looking for new technologies and products centered on major industries such as semiconductor, display, battery, robot, and machinery. The Electronic Times is going to focus on companies that concentrate on R&D in areas that have high level of foreign dependence and lack localization through 'Technology Independence, Focus on This Company' series.
'Optical measuring instrument', which is used during an inspection process that is the final stage of display production, is an important instrument that affects final color quality of a display panel. It is often used to measure color, brightness, and color range of a display panel.
Optical measuring instrument determines the quality of a display panel. To produce best displays, a company needs to use the best optical measuring instrument and designate it as the standard and apply it to its production facility. As a result, it is difficult to change optical measuring instruments that are currently used.
Current display measuring instrument markets are owned by Japan, Germany, and the U.S. In case of South Korean panel manufacturers, 90% of their measuring instruments come from foreign companies. Foreign companies have established themselves within South Korea's LCD and OLED markets.
ANI (CEO Park Byung-hae) is challenging foreign companies with its own optical measuring instrument. After working on R&D for seven years, its optical measuring instrument became the first pure South Korean product to be registered as a standard measuring instrument for the world's biggest small and medium OLED manufacturer. As a result, ANI is now recognized for its technical skill.
ANI, which specializes in display inspection instruments, jumped into optical measuring instrument market for the first time in 2013. While it was working on developing its own optical measuring instrument, it has been supplying its main products such as OLED module quality inspection instrument and inspection instrument for semiconductor packaging process.
Because optical measuring instrument is based on optical technology, R&D process had not been easy. Although its color-difference meter 'CM-H505', which was introduced in 2013, was awarded Jang Young Sil Award the following year and resulted in ANI being recognized for its technical skill in measuring instrument, CM-H505 was only used to supply small quantity of samples from an actual production line.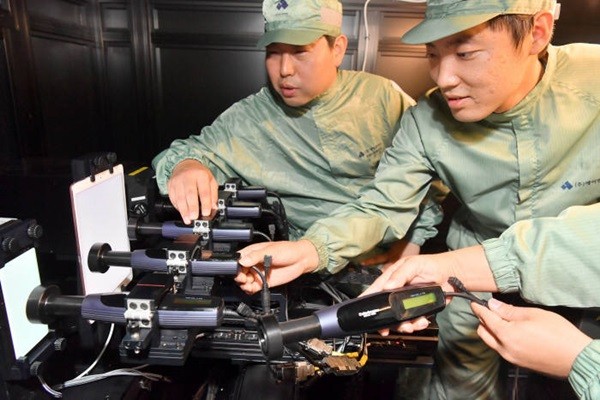 It is not easy for a small and medium company that makes between $82.4 million (100 billion KRW) and $247 million (300 billion KRW) in annual sales to focus on a technology for many years without making significant amount of profits. However, CEO Park and his research team had focused on R&D of optical measuring instrument for seven years with a mindset of achieving their result at any cost.
By doing so, their 'LUKAS-H600' model is now registered as a standard measuring instrument for the world's biggest small and medium OLED manufacturer. Other foreign companies are also requesting ANI about purchasing its optical measuring instrument.
"It is the first time when a pure South Korean optical measuring instrument is registered as a standard measuring instrument." said Manager Lee Kyu-ho of ANI's Technical Research Institute. "Although we had supplied only hundreds of our instruments as samples between 2013 and 2018, we had already supplied more instruments than the number of instruments we had supplied between 2013 and 2018 in the first half."
ANI also supplied its color-difference meter that can measure a display from many different angles to a Japanese display manufacturer. Although the quantity is small, ANI has gained confidence by supplying its product to a Japanese company that generally has prefer Japanese products over foreign products and has complicated verification process for foreign products.
ANI is attempting to expand its products by developing luminance measuring instrument and spectroradiometer that can be used for larger displays.
It launched its first luminance measuring instrument in 2016 and it has been upgrading its technical skill by developing a new model every year since 2016. It is expecting that it will be able to supply its latest luminance measuring instrument that is expected to be developed by end of this year. German and Japanese companies currently reigning over luminance measuring instrument markets.
ANI is also preparing spectroradiometer that can analyze brightness of color, chromaticity, and spectrum. No South Korean company has yet to supply its spectroradiometer for production purpose. It is estimated that there will be huge demands for spectroradiometers in the future as consumers are requesting displays with higher qualities.
"South Korean panel manufacturers as well as Chinese panel manufacturers are raising their levels for managing the quality of their products." said Department Head Sung Il of ANI's Optical Measurement System Business Department. "By informing domestic and foreign markets about our LUKAS brand, we are going to establish ourselves as a global brand within the optical measuring instrument field by 2030."
Staff Reporter Bae, Okjin | withok@etnews.com