OLED is a key business for South Korea's display industry. On the other hand, LCD business is beginning to lose its profitability due to changes in technologies and pursuit by Chinese companies. Samsung Display and LG Display were able to predict the change in paradigm and make preemptive actions and they have secured their positions at the top of the OLED industry.
However, luminous material that is a key element of a display comes from overseas. UDC from the U.S. that holds fundamental technology in phosphorescence, Merck from Germany that has 350 years of history, and Idemitsu Kosan and JNC supply key OLED materials to Samsung Display and LG Display.
A South Korean venture company called 'Material Science' is now challenging these companies within OLED material markets that seem to not have any gap.
Material Science's goal is to commercialize blue luminous material, which requires the highest level of technology, when it is working in South Korea that lacks appropriate environment for materials and is expected to compete against global chemical companies.
◊Material Science looking to commercialize blue OLED material
Blue color has the least luminous efficiency in OLED. When 100 electrons are placed, only 40 of them emit blue color.
Although blue luminous material requires an improvement urgently, it is not easy to increase the luminous efficiency. Because there is no other alternative at the moment, blue luminous material is used as it is.
It is not easy to enter the market for blue luminous material as Idemitsu Kosan, which started its development in 1995, has put up high entry barrier with a wide range of patents.
Despite this, Material Science succeeded in securing blue 'dopant' technology in 2017. Dopant is a substance that emits light and forms a luminous layer with a 'host' material.
First, Material Science focused on understanding the luminous mechanism of an OLED device to quickly find appropriate materials out of many materials. It also developed a new synthesis method to implement molecular structure it designed because it could not break away from patents of global companies with existing synthesis methods.
"We were able to make a completely new chemical substance with our own synthesis method." said CTO Oh Hyeong-yoon of Material Science.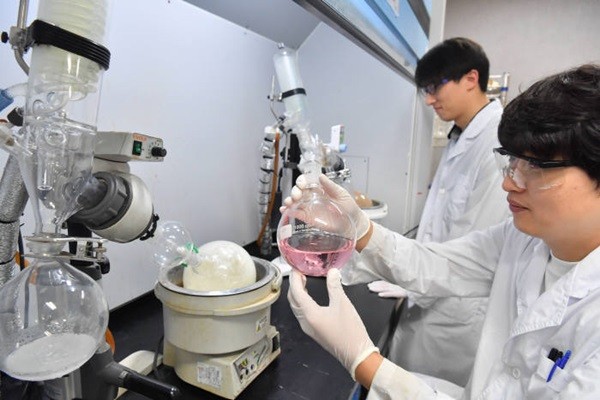 ◊Material Science focuses on foreign markets first
Although Material Science is a venture company, it did not take long for it to be recognized for its technical skill. It supplied large quantity of HTL (Hole Transport Layer) materials to a Chinese OLED panel manufacturer. An OLED device is divided into HTL and ETL (Electron Transport Layer) centered on luminous layer (host, dopant). Although Material Science's ultimate goal is to develop blue luminous material, it commercialized HTL material first that has high marketability and commercialization possibility to prepare a foundation for corporate management.
Due to consistent efforts, it signed contracts with three Chinese OLED display companies and it has brought up its sales to tens of millions. However, it has yet to have any contract with a South Korean company because South Korean display companies do not want to change SCM (Supply Chain Management) of materials that is already set. It is also not being recognized fully for being a small venture company. In order to survive, it had to knock on the door of Chinese market first.
However, South Korean companies are beginning to show interest towards Material Science due to word of mouth. A major corporation invested $5.78 million (4 billion KRW) last year after recognizing Material Science's potential. Material Science is also pushing for joint R&D to localize blue OLED material.
Material Science has a long way to go because it has many tasks to solve and it has to go through many obstacles to ultimately commercialize blue OLED luminous material. Aside from Material Science, there needs to be other companies that specialize in materials. Material Science and other companies can catch up to global companies once the base and the ecosystem are established and expanded.
"Chinese companies have already started their pursuit within organic layer markets that require relatively lower level of technologies than luminous layer." said CEO Lee Soon-chang of Material Science. "South Korea needs to separate itself from high-value materials, but this can be done only by small and medium companies."
"Because no company in the world has yet to develop high-efficient blue luminous material, we will definitely gain the lead if South Korean display companies and materials companies work together and develop next-generation products." said CEO Lee while emphasizing the need for collaboration between South Korean Government, major companies, and materials companies.
Staff Reporter Yun, Geonil | benyun@etnews.com