The global display market is fluctuating due to side-effects from the novel coronavirus. As Chinese Government has been controlling traffics and extended Chinese New Year holiday in order to prevent the spread of the virus and cross-contamination, it is expected that operation rates and productivities of major display panel makers that have set up their production lines in China will start to decline sharply.
South Korea's display industry is paying close attention to the LCD panel market's situation. As Chinese companies that had aggressively gone after South Korean companies while having subsidies from Chinese Government on their back have slowed down a bit, this will give time to South Korean companies to restructure their strategies on management. Fact that the LCD panel prices are going up due to the reduction of outputs of LCD panels stemming from decreased operation rates of fabs is an unexpected favorable factor for South Korea's display industry.
◊LCD prices expected to go up by 5% at the most
A market research company called IHS Market predicted through its recent report that there would be a lack of supplies of display panels and increased selling prices as the recent novel coronavirus situation affects the production of display panels within China. It predicted that operation rates of LCD fabs of major Chinese panel makers would be reduced by anywhere between 10% and 20% in February.
"It is expected that China will be responsible for 55% of global production of LCD panels this year." said IHS Market. "However, reduced production by Chinese makers will lead to a rise in the LCD TV panel prices."
"Based on active policies on the LCD panel prices by LCD panel suppliers, there is a chance that the increase in the LCD panel price can be anywhere between $3 and $5 when it was expected to be between $1 and $2." said IHS Market. "There is a chance that laptop and monitor makers face a lack of inventories of panels."
Another market research company called WitsView put out a result that said the LCD panel price in February is 1% higher than the LCD panel price in last February. Unlike 2019 where the LCD panel prices had continued to go down, they have been on an upward trend in the first two months of 2020. Considering the fact that an adjustment of the selling price of LCD panel due to the novel coronavirus was not applied to WitsView's prediction, there is a chance that increase rates are much higher.
South Korea is also expecting an increase in the selling price of LCD panel. KB Securities expects that the selling price will rebound as the supply amount of LCD panels will be reduced by 20% globally in the first half of this year due to side-effects from the novel coronavirus. KB Securities made its prediction based on a possibility that BOE, which is the world's biggest LCD maker, can face a setback to its production of Gen 10.5 LCD panels.
KB Securities believes that it will be inevitable that BOE's fabs will be shut down due to a setback in supplies of raw materials stemming from Chinese Government's containment of Wuhan. As a result, it expects that LCD panel makers will actively increase their prices in the near future.
Also, South Korea's display industry expects that it will soon enjoy unexpected benefits resulting from a global increase in the LCD prices. It also expects that profitability in OLED panels will be improved as the difference in the OLED TV panel prices and the LCD panel price becomes narrower.
"Setback to supplies of small to medium OLED panels by CSOT and Tianma that have their plants set up in Wuhan will prepare an opportunity for LG Display's performance in its small to medium OLED panels that are all produced domestically." said Kim Dong-won who is a researcher from KB Securities.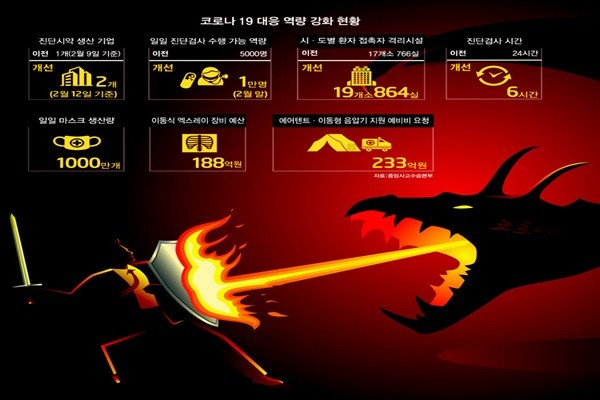 ◊LCD selling price expects to climb for a while
The industry believes that side-effects from the coronavirus situation will continue for few months as some employees have yet to report to their workplaces after Chinese New Year holiday just like previous years and as it is unclear when operation rates of plants will start to recover. It is expected that these factors will lead to an upward trend in the selling price of LCD for a while.
According to a market research company called StonePartners and the industry, Guangzhou has started "closed supervision' as part of its measures for the virus. Its plan is to minimize any contact between people by strictly prohibiting outside residents from visiting Guangzhou.
It is heard that Guangzhou is prohibiting any person from areas such as Wuhan where the spread of the novel coronavirus is most severe from entering its city. It prohibits people who are already in the city from going out for 14 days. Hangzhou, Suzhou, Nanjing, and Kunshan have also implemented closed supervision. It is heard that they are prohibiting outside people from entering their cities and they have restricted traffic as well.
It is likely that production lines of major display makers in these cities will suffer from a shortage in manpower by end of this month. Considering the fact that outside people who are currently in their cities are quarantined for at least 14 days, it is likely that operation rates will start to go up starting from the 23rd at the earliest.
"About 10% of employees do not come back to work after Chinese New Year holiday as they have yet to return to their homes or changed jobs." said a representative for a company that operates a production line in China. "However, the percentage will be higher this year due to quarantine and limited traffic that are part of measures towards the novel coronavirus."
Display fabs that are located in Wuhan have taken the most blows to their businesses. Some of these fabs are owned by CSOT (LTPS LCD fab, Gen 6 OLED fab), Tianma (Gen 4.5 LTPS fab, Gen 6 OLED fab), and BOE (Gen 10.5 LCD fab).
It is likely that fabs operated by South Korean companies that are located in China will also take a hit to their businesses. LG Display currently operates a LCD panel fab in Guangzhou and it has started operating its fab in Nanjing, which had been stopped for a short period of time due to a recommendation from Nanjing Government, since the 10th. On the same day, Samsung Electronics and LG Electronics restarted their fabs in Suzhou and Hangzhou respectively.
Staff Reporter Yoon, Heeseok | pioneer@etnews.com