Many have been voicing their opinions that the South Korean Government's role as a digital platform needs to grow after the current COVID-19 crisis settles down. They are saying that the public sector's support needs to focus on data and infrastructure so that the private sector can develop various services. Experts who participated in "Post Coronavirus Era, Digital Government Innovation Symposium", which was co-held by the Electronic Times and NIA (National Information Society Agency) on the 21st, emphasized the importance of the South Korean Government's role as a digital platform.
"The key to digital government innovation is to re-design processes of public services based on data and digitization." said President Moon Yong-shik of NIA. "The South Korean Government needs to pursue policies that will have the government provide infrastructures and platforms and have the private sector lead development of innovative services."
"Public mask notification service" is one example that has drawn attentions worldwide during the COVID-19 crisis. This service is a primary example where various parties such as government departments, private cloud computing systems, and front-line pharmacies came to work together. The NIA and the government had collected and processed data during the development process of this service and have connected the private sector and the public sector. This process is completely different from how the government had led even development processes in the past. There was not even an announcement for RFP (Request for Proposal) that was carried out during development process of a public system. This service became stable in just one week of planning and various kinds of the service were created by private companies utilizing data and systems made public by the public sector.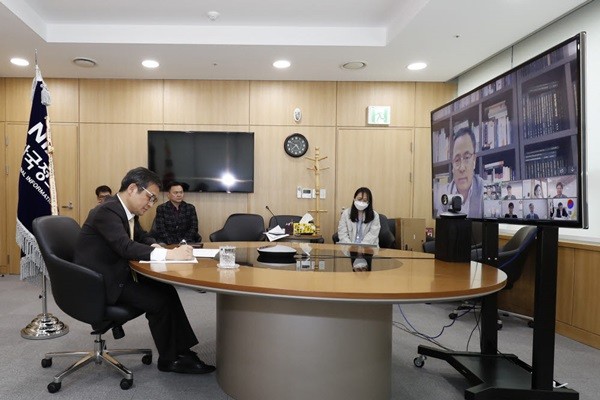 "Platform needs to be the theme of digital government innovation." said CEO Oh Won-seok of LiST that participated in the development process of the public mask notification service. "The government needs to provide platforms so that the private sector can utilize various data and infrastructures of the public sector and develop various services."
Public data will be important if the government wants to become a digital platform. The private sector has difficulties in developing relevant services due to lack of data. If the government establishes administrative and collaborative systems based on data, there will be more public data with high quality. "The government needs to execute policies based on data rather than "feel" and execute data-based administration between departments." said Professor Kwon Heon-young of Korea University. "The National Assembly needs to step up so that "Data-Based Administration Act" that supports effective utilization and openness of data and data-based administration is legislated as soon as possible."
The South Korean Government prepared a roadmap for "Digital Government Innovation" in 2019 and is looking to carry out the roadmap this year. Digital Government Innovation has begun to pick up speed according to the post COVID-19 era. "The government needs to break away from planning policies every 3 years or every 5 years and push forward timings of digitalization-related tasks or projects." said President Moon. "If it focuses on smart and contactless working environment for public officials and electronic wallet and electronic identification card system based on MyData that we are seeing now, it will be able to create more digitalization-related jobs and establish frames for innovative growths in the future."
Staff Reporter Kim, Jiseon | river@etnews.com