Many points are being made that there needs to be security technologies in order for COVID-19 vaccines to work properly. North Korea, China, Russia, and Iran, which are seen as the four major countries with potential cyber threats, are targeting research institutes that are studying COVID-19 vaccines and are launching all-out offensive.
"Hacking groups that are supported by these four governments are targeting research institutes that are studying COVID-19 vaccines and are preventing their studies." said Bryan Ware, who is the assistant director at Cybersecurity and Infrastructure Security Agency (CISA) that is under Department of Homeland Security (DHS), during his keynote speech for the "9th Information Security Day ceremony" that was held at the K Hotel on July 8th.
"Cyber attacks transcend borders and attackers have raised their success rates in the midst of COVID-19." said Assistant Director Ware. "We need to utilize security technologies in order to overcome COVID-19 as fast as possible and we are going to work with South Korean companies and other foreign companies in order to protect development and supply networks of COVID-19 vaccines."
Importance of security is being emphasized more than ever as COVID-19 has brought the "untact" era. Since the COVID-19 pandemic began, there has been an increase in numbers of ransomware, malicious e-mail, phishing message, and advanced persistent threat (APT). There is also a growing percentage of hybrid attacks that target teleworking, online education, and telemedicine. As a result, some are concerned about an era of "cyber pandemic" in addition to the COVID-19 pandemic.
"Cyber security has become more important as societies are adopting non-face-to-face measures more than ever." said President Moon-jae in through his written message. "We are going to support our information protection industry in order to protect our people's lives, companies' assets, and national infrastructures." He also mentioned that information protection technologies are contributing to protecting intellectual property rights and personal information during processes of diagnostic kit development and epidemiological investigations.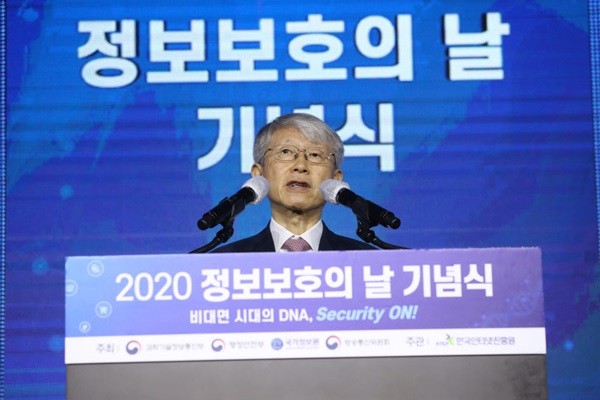 There are both expectations and concerns made by industries. "We need to connect external environment changes to demands for information protection and growths of our industries." said CEO Lee Yong-hwan of SK Infosec. "Let us make the COVID-19 pandemic as an opportunity to grow our information protection industry and pursue "results-oriented collaboration" that will involve the government, the military, the academic circles, and the industrial circles."
Some also point out that the "untact" era will not guarantee a growth of the information protection industry. "Although we need to compete against multinational IT companies within new security-related fields such as artificial intelligence, cloud, convergent security, and 5G network, our technologies and personnel are currently not up to the desired level." said CEO Lee. "The government, the academic circles, and the industrial circles need to work together in order to develop talented individuals for the future."
29 men and women of merit who have contributed to development of the information protection industry were awarded during the ceremony. CEO Kim Il-yong of NNSP and Director Kim Yoo-kyung of NH Bank Division were awarded with Minister Medals.
"Number of cyber threats has been increasing along with an increased number of internet-based infrastructures." said Cho Sang-woo, who is the head of National Security Research Institute and received a Civil Merit Medal for developing a technology that can respond to threats on control systems in order to protect the security of national infrastructures. "I am going to make contributions towards building a safe "untact" society after the COVID-19 pandemic subsides by developing necessary technologies."
Staff Reporter Oh, Dain | ohdain@etnews.com